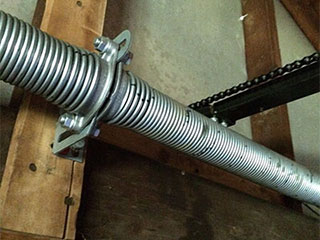 Our team specializes in garage door springs, whether they need to be maintained, replaced or restored. We work with a selection of high-quality products from leading manufacturers, meaning that we are always able to provide you with the precise springs that your door requires. We also possess the professional know-how to install them properly.
Repairs and Replacements
Your springs have a limited lifespan since they are constantly exposed to outdoor weather and operating under strain. This means that after a certain time, they will need to be replaced or repaired to ensure that your door can continue to be used effectively and safely. Our team specializes in garage door spring installations, making us an ideal partner for the task.
Inspections and Maintenance
Let us preserve your garage door by ensuring that your springs are up to the task of supporting and balancing your door. With careful and regular inspections, we can help you avoid situations where unforeseen broken garage door spring repairs become a necessity, by ensuring that yours are always in peak condition.
A Wide Selection of Garage Door Springs
We are in a position to service a wide selection of different doors thanks to our knowledge and experience working with a range of springs from different manufacturers. We can provide you with overhead and extension garage door springs, as well as oil tempered and galvanized springs for additional protection.
Give a member of Garage Door Repair New Hope a call today or explore our website for further details about our services. We will be happy to assist you in any way we can.
Need more? We also provide:
Garage Door Opener Track Maintenance
Door Opener Troubleshooting Services
Oil Tempered Torsion Springs
New Garage Door Installation