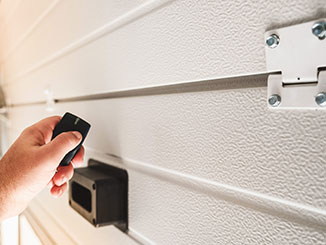 Home security is an important issue, and garage doors can make for an obvious target to would-be burglars. Not only is it a large and obvious entry point, but your neighbors are less likely to pay attention to strange people coming in and out of your garage than they are to ones coming through your front door. Below are some pointers for minimizing the risk of a break-in.
Avoid Attracting Attention
Leaving your garage door open is an obvious no-no, but there are subtler ways of drawing attention. If you keep anything valuable inside your garage, you should ensure any garage windows are covered when not in use. If blinds won't work for your garage layout, consider frosting the window panes, or just don't keep anything worth stealing in the garage (besides your car).
Use Rolling Code Technology
One way that thieves can exploit your garage door is by using a code grabber to copy your remote control's command code. If you get a rolling code system, every time you use your remote control it will in fact be using a unique, one-time code that won't do anything if replicated after the fact. Most modern openers have a rolling code system built in; if yours doesn't, you should consider getting one!
Guard Your Remote
The easiest way to have your garage broken into is by losing the remote. Make sure you have a consistent place to store the remote control. For example, you could consider putting it on a keychain so that it can't fall out of your pocket. You should also avoid leaving the remote in your car, if you do, someone who breaks into your car will now be able to break into your house as well. If you do allow someone else to use your remote, make sure they give it back to you immediately after they're done with it.
Keep Your Door In Shape
If your door isn't locking securely, or if it won't close all the way, intruders might be able to force it open or just climb inside the opening. Making sure your garage door is in good repair and not prone to such malfunctions is one of the best things you can do to keep your home secure. Make sure you organize periodic and professional maintenance sessions and repair any problems with your system as soon as possible.
To learn more about garage doors, how to secure them and repair and maintenance issues, give us a call today.